The audit found officers had not acted ethically.
"I think something is not right and I intend to get to the bottom of it and fix it," Mr Atkinson told a Senate estimates hearing on Monday.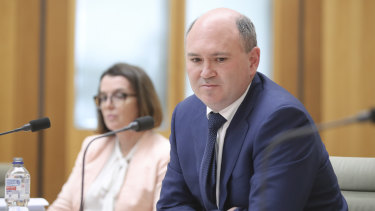 "This department has a long history of operating in line with the highest standards of integrity and ethics."
He commissioned former inspector general of intelligence and security Vivienne Thom on August 21, a month before the ANAO report was made public, to examine whether one person working in the department's Western Sydney Unit at the time of the deal had breached the public service code of conduct over the sale.
Another department official is under investigation by former Fair Work commissioner Barbara Deegan over their management of conflicts of interest within the department.
Loading
One of them has been stood down while the investigations are under way and the other has moved roles.
Labor senator Murray Watt asked if either of the people under investigation were former ministerial staffers, but Mr Atkinson said he was not aware of their previous work history.
Governance and financial risk expert Mark Harrison is also doing another audit of the Leppington Triangle transaction to see if there are any wider departmental issues that need to be dealt with, and Mr Atkinson is on the verge of appointing another person to lead a review of the culture and processes of the Western Sydney Unit.
That unit has now been taken into the department's major projects unit instead of being a standalone section.
Loading
Mr Atkinson said he was "deeply concerned" about the issues and behaviour highlighted in the audit report and said to his knowledge, it had uncovered activity that senior management of the department had not been aware of at the time.
Asked whether he thought people had covered up what had gone on, Mr Atkinson said that was why he had commissioned his own independent investigations.
"I'm trying to clean it up," he said.
The discrepancy between the amount paid for the land and the later valuation of it was initially discovered by a mid-level public servant in reviewing the department's financial statements. Labor's Senate leader Penny Wong said they deserved a "gold star".
Since the land was bought, the two high ranking public servants overseeing the Western Sydney Unit, the relevant deputy secretary and the department's secretary have all left.
Get our Morning & Evening Edition newsletters
Katina Curtis is a political reporter for The Sydney Morning Herald and The Age, based at Parliament House in Canberra.